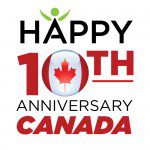 At Isagenix, we have always believed that "If it's not right for the Associates, it's not right for the company."
In recent months, the value of the Canadian dollar has weakened significantly against the U.S. dollar, meaning our Canadian customers and Associates have seen the price of their Isagenix products rise by about 13 percent over last year.
To correct this, and provide more stability in the future, we have implemented a global foreign exchange policy.
And, effective immediately, we have rolled back Canadian pricing to 2014 levels by applying a 13 percent discount at the time of order!
We want to say a big "thank you" to our Canadian customers and Associates who have continued to champion our Solutions to Transform Lives™! Stay tuned to IsaFYI.com for more exciting announcements as we celebrate 10 fantastic years of Isagenix in Canada!
Spring into action! It's never been a better time to join in Canada!
April 13 through May 10, anyone in Canada joining Isagenix as an Associate for the first time, who places an order of 150** BV or higher on Autoship will receive free* Isagenix membership! That's a $29 value, applied automatically with no coupon required!
An Isagenix membership is always a great value, so don't let your new members miss out on joining Isagenix with this amazing promotion!
*Free Autoship membership is automatically applied to qualifying orders placed from April 13, 2015 (12 a.m. EST) to May 10, 2015 (11:59 p.m. EST). To qualify, an Autoship order of 150 BV or more must be placed by a new member starting as an Associate in Canada.
**If a new Associate joins Isagenix with a pak or system with a base BV of 150 or higher that includes free membership, no additional discount will be given.